My second favorite* time of year is here: TV IS BACK! I'm may treat characters in TV shows as if they are my real friends. I talk about them, make general reference of them in conversation and even quote them from time-to-time. I can link almost anything happening "in real life" back to something from a TV series. TV rehab will probably be a trendy thing in about 10 years, and I'll be the poster child when Dr. Drew makes it a reality series. So, it may come as a surprise that with my love (obsession) of TV I made the drastic decision to cut cable a year ago.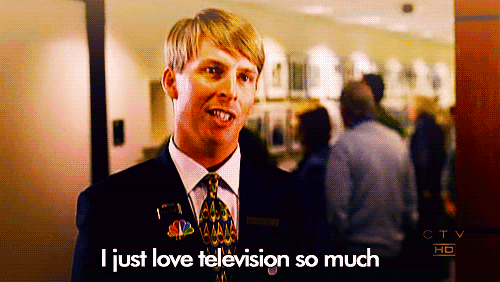 [Gif taken from photobucket]
It happened more as a result of circumstance than practical budgeting. My first roommate was leaving New York and taking our TV with her (because it was her's not because I lost a battle over a television). I didn't have proper funds at the time to purchase another TV, so I decided to make due with just streaming shows via Hulu on my computer. About six months later I invested in a second-hand TV (it was 3 weeks old and I got a great deal). My current roommate and I tossed around the idea of paying for cable, but weren't too fond of adding $45 a month to our basic internet bill in order to bundle in cable. Instead, I invested in watching TV without cable…enter the Roku.
A Roku is a tiny little black box that frees you from cable companies and gives you access to all your best friends, I mean favorite shows. I invested in the Roku HD Streaming Player. It costs $59.99 and includes FREE shipping. It saves me about $174.12 a year. It would be $270, but I elect to pay for Hulu Plus so I can stream recent shows on my TV. There are no start-up costs or annual charges with a Roku, but you do have to pay whatever monthly fees Netflix, Hulu Plus, Amazon Prime etc charge to stream their online content. So let's chat about those other options!
Netflix is the reigning king of the streaming world. A subscription of $7.99 per month (or poaching other people's account) gives you access to movies, TV shows, documentaries, original content and far too many options for people who can't make decisions. The only issue some have subsidizing cable with Netflix, you can't keep up with current shows. Netflix airs shows after they've finished their seasons (and typically around the same time they go to DVD). But if you want to keep up with the latest in TV world you still can!
Hulu Plus* is a flat rate fee of $7.99 per month. You can't access everything you could on cable, but they offer recent episodes from many of the major networks/channels including ABC, NBC, FOX, ABC Family, Comedy Central and sporadic Bravo shows. You can get Hulu for free on your computer, but if you want to watch shows on your tablet, phone or via a Roku then you have to pay for Hulu Plus. You also get fewer commercials (no it isn't ad free, but neither is that cable you pay for). Hulu Plus also gives you access to full seasons of shows instead of just this week's episode.
Amazon Prime may seem like a large expense upfront, $79 a year to use Amazon Prime, but that comes to you at the bargain value of just $6.59 a month (insert desperate infomercial sales voice here)! On top of the free two day shipping and other benefits, Amazon Prime membership (affiliate link) gives you access to streaming TV shows and movies. It also fills in some gaps left by Netflix and Hulu Plus. I'm powering through Downton Abbey right now, thanks to Amazon Prime! Like Netflix, Amazon Prime doesn't offer access to shows as they air. P.S. Bookworms can take advantage of the Kindle Owner's Library.
Etc would include HBO Go, Showtime Anytime or any app which you can only access with a cable subscription. If you cut cable then you can access them hacking into Mom & Dad's account, assuming they still have cable, or a kind friend.
So just do it already and ditch cable, like all the cool kids!
Are you a cord cutter or still hanging onto cable?
*First is May because that's my birthday month with Christmas coming in at a close second.
*Try out 2 weeks of Hulu Plus (FOR FREE) using my referral code! I'll get a kickback of two free weeks if you sign up to try it out. After two free weeks, you can cancel your subscription and won't get charged.
LINK LOVE: THE BETTERING YOURSELF EDITION 
Bonus Round: The Virtues of Fine in the Age of Awesome on New York Times